PressReader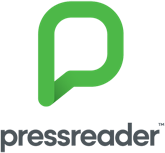 Library PressDisplay is a stand-alone web-based portal designed specifically to meet the needs of libraries and educational institutions. Launched in 2003, Library PressDisplay has become the standard digital newsstand of choice in thousands of libraries and educational institutions around the world providing full digital replicas of current-edition newspapers and magazines to students, teachers and researchers.
How does Library PressDisplay benefit your library?
Saves money by minimizing postage and delivery costs
Saves time with simplified circulation and periodicals management
Saves shelf space
Encourages visitation and library usage
Eco-friendly alternative to print publications
How do your patrons benefit?
Access to full content, same-day newspapers and magazines with back issue availability
On-site and off-site access to publications
Viewable on PC, smartphones or tablet devices
Expanded collection of global news resources ideal for research
How does Library PressDisplay work?
With easy access and IP authentication, Library PressDisplay can be activated through:
EZ Proxy and VPN Client support
URL Referral/Scripted URL
Library Barcode or Student ID
Open Athens