dMags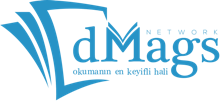 Turkey's largest digital magazines and comics store with approximatley 250 magazines, dMags is the oldest and largest digital broadcasting platform in Turkey's digital publishing industry. It is intended that users can easily take and read the magazine from their phone, tablet or desktop device.
Enjoy Reading Magazines on All Platforms!
With dMags, you can read your magazines and comic books on your iOS, Android based mobile phones, tablets, on your desktop and laptop computers. Popular magazines for men, women, children, science and technology, sports, hobby and many more are just on your fingers!!
dMags, "The most enjoyable state of reading!"
Hundreds of magazines in dozens of categories.
Ability to access archive numbers of the publication you are interested in and investigate without purchasing.
Quick access from your libraries to publications that you follow as filtered and foldered.
Ability to search the contents of all publications and get instant technical support.